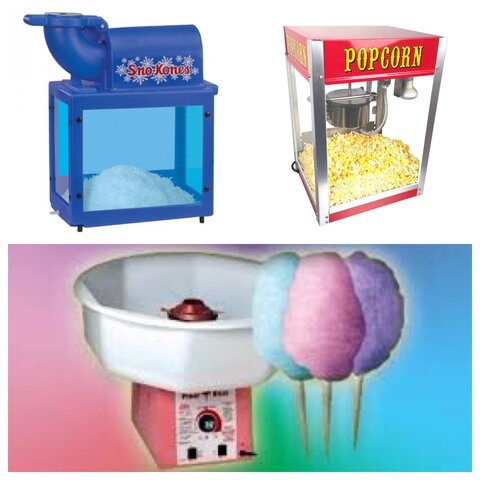 Concessionaires Package
Outlets: 3 Circuits (Separate Breakers)
Attendants: Adult Supervision Required: 3




Cotton Candy, Snow Cones, and Popcorn!
We have made it easy for you, planning for everything you'll need to provide concessionaires for your party. This package includes a snow cone machine, cotton candy machine, and popcorn machine. All of our concessions come with a table(s), power cords, and supplies. Everything you need for our most popular concession rentals! (snow cone machine: *excludes ice)
Cotton Candy: Easy to use and fun for everyone! Simply pour the sugar into the machine and watch the magic happen as the machine heats up. Floss sugar will get swirling and flowing just sit back and watch the kids eyes light up! Silly Nilly Pink Vanilla and Boo-Blue Raspberry flavors included!
Popcorn: Our popcorn machine is easy to use. We use all-in-one bags that include popcorn, salt, butter, and oil. Just pour the bag into the hopper and heat it up. Included with our popcorn machine is convenient all-in-one pouches and popcorn bags. Everything needed to have movie theater-style popcorn!Snow Cone: The kids love it! Simply add a few scoops of regular cubed ice from the store. Fill the neck fully, push the motor button, and watch it snow in Florida! A simple one-button operation. A must-have on those hot summer days. Cherry and Blue Raspberry syrup included! *excludes ice
Rates
Same Day Rentals: The regular listed price is 1-7 hrs.
Overnight Rentals: 12noon to 630am, now no upcharge!
Two Day Rentals: Get the second day for additional $100!